About XELECTRIX Electrical Contractor – Sacramento RV & Mobile Home Park Electrical Service
In 1987, Daniel Bradford started an electrical contracting business named ELECTRIX. There was no great vision or claim to fame, just a desire to provide quality electrical services to his customers. For the last 25+ years, that is exactly what he has done.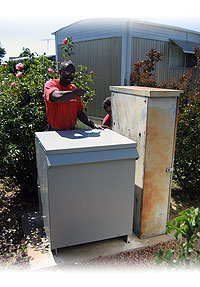 Today the company has matured into a well-known and respected presence in the electrical service and contracting industry. In 2003 with incorporation and a new name XELECTRIX is still as dedicated to quality workmanship and customer satisfaction as the day it was founded.
XELECTRIX now employs four people and the range of Services that are provided has expanded as well.
As XELECTRIX continues to grow and moves into the future its focus will remain on developing relationships with partners who will benefit from having a reliable and experienced electrical contractor by their side.
If you would like more information about XELECTRIX feel free to contact us. We would love to talk to you!
Contractors License #1001285